PEI POTATOES are such a versatile, affordable, naturally gluten-free, and adaptable vegetable. It's hard to imagine a breakfast, lunch or dinner table where Prince Edward Island Potatoes wouldn't make a welcome focus.
In my travels to China, I was amazed to see how this root vegetable was utilized, many times in dishes I had never seen before. These naturally low-fat tubers were presented in salads and spicy stir-fries that were as delicious as they were beautiful in appearance. When I returned home, I knew I had to share these dynamic potato flavour combinations with you. It's important for me as a chef and as an instructor to share recipes that are suitable for the tastes and nutritional requirements that are prevalent today.
This is a fun recipe to make as a group activity with friends, family or for all the little hands in the house-hold. I like preparing these to add a unique twist to the traditional side-dish starch. Potato roses really bring visual appeal to a dish and the possibilities for variation are endless.These potato roses are prepared with a Sichuan flavour profile as I think they pair really well with PEI golden potatoes. Don't let the chili flakes intimidate you, as the PEI Potato mellows any fire with their inherent sweetness.
Serves 8-10 people
INGREDIENTS
20 Yukon Gold potatoes peeled
1 cup canola oil (more for greasing muffin tins)
2 Tbsp Szechuan peppercorns ground
6 Tbsp sesame seeds
1 Tbsp chili powder
½ Tbsp garlic powder
1 Tbsp granulated onion
1 Tbsp Kosher salt
2 Tbsp minced ginger
METHOD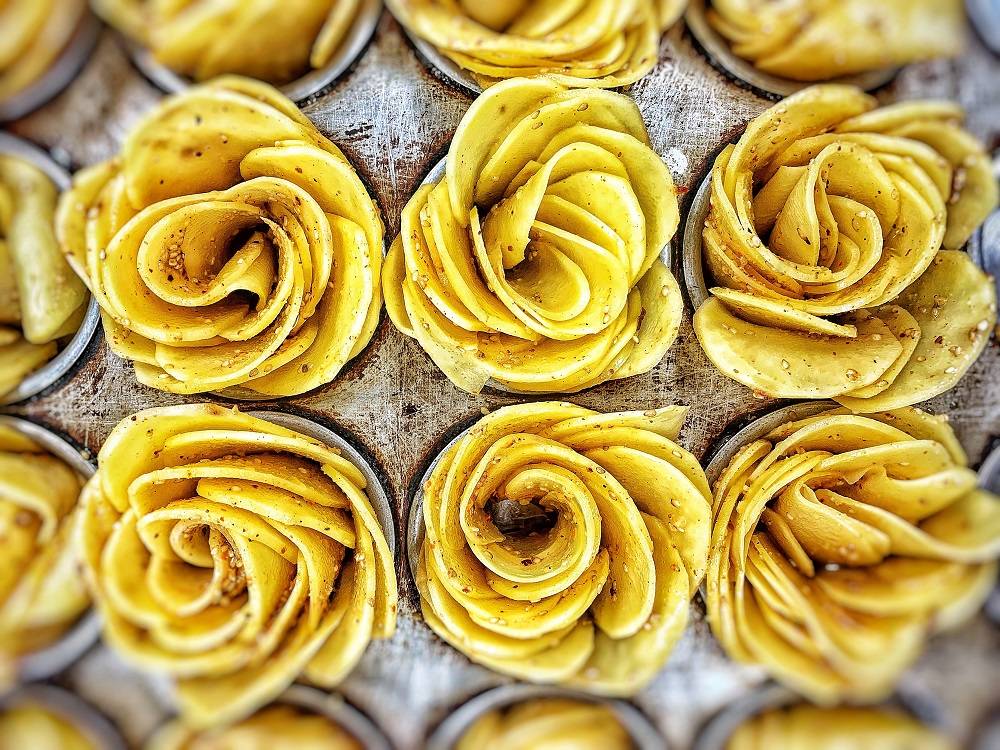 Line muffin tin with parchment paper and generously grease the entire tin with canola oil.
Use mandolin to slice potatoes thin enough to bend. Place in a large bowl and toss with the canola oil then add spices.
Place a piece of potato on the board and overlap another piece over 50 % of the potato repeat using 20 pieces of potato forming a line. Roll the line of potatoes up starting at one end and place in the muffin cups.
Bake 375 for 10 min then cover with foil and bake for another 10-15 min.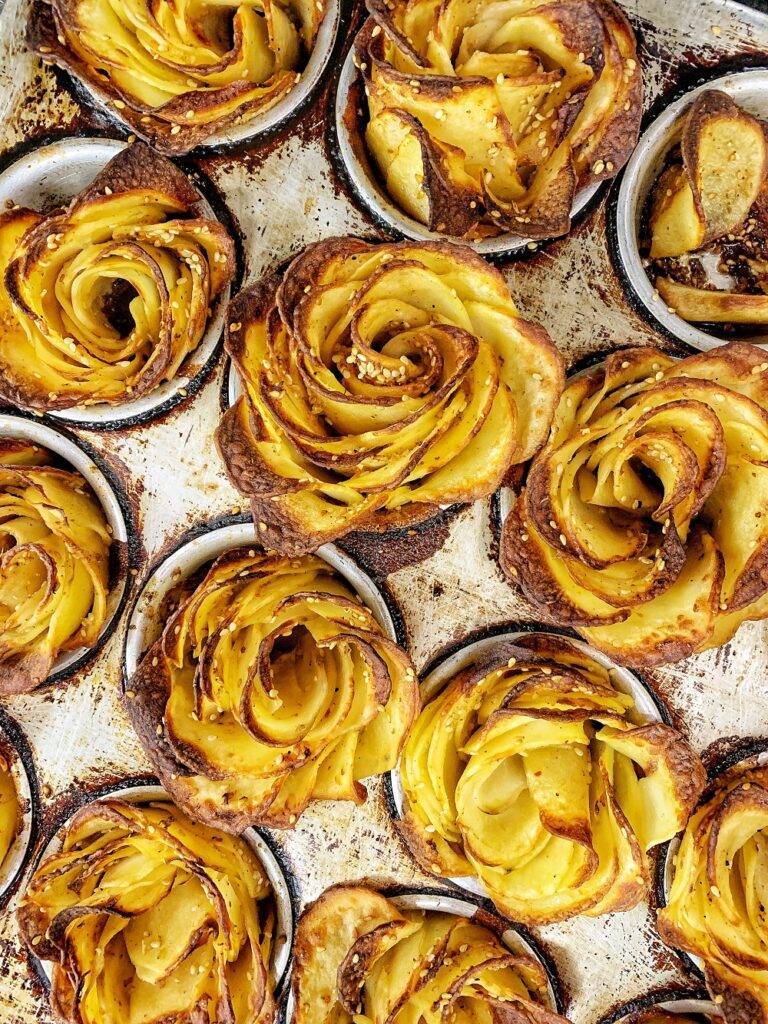 Chef ILona Daniel
Chef ILona Daniel is the founder of Tribe Fresh Events and Consulting, a purpose-driven insights consultancy accelerated by modern approaches to the hospitality industry, immersive experiences, community and culture development, and game-changing deliverables.
With 15 years of experience, she is a thought leader and an established business-builder with projects spanning the globe including Europe, North America, Africa, and Asia. Her strong background in consumer products and services includes a specialized focus on the interconnected producer and consumer in the food service sector. Ilona is also on the Board of Directors for the Tourism Association of PEI & The PEI Writers Guild. Chef Ilona is a published writer for numerous publications, is a media personality, and a dedicated Culinary Instructor at the Culinary Institute of Canada. The episode, "PEI Lobster" of the series, "Untamed Gourmet", which Chef Ilona hosted was nominated for a Canadian Screen Award.