Still looking for something special for that special someone? Three of our foodie friends share their favourite cookbooks for gifting inspiration, plus tips on how to survive the holidays and other great kitchen-friendly advice.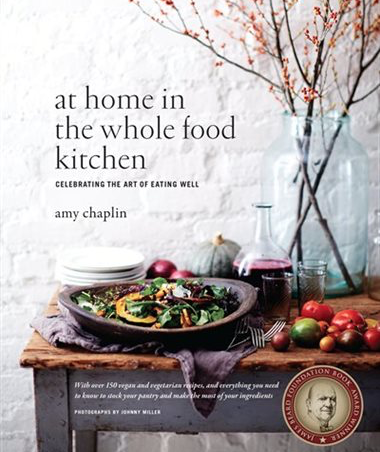 "Some people collect coins; I collect cookbooks. I have far too many and I continue to buy them. Some I hold on to for sentimental reasons, like the one that taught me to make my first profiteroles. Others have been instrumental throughout different periods in my career, such as Marcella Hazan's when I worked in Italy, or the Joy of Cooking while I was at chef's school. These days a book needs to be rather exceptional for me to make space on the shelves. And a book that I really love is At Home In the Whole Food Kitchen by Amy Chaplin. It's a book that inspires me, it uses ingredients that are outside my regular routine and it makes me want to live and eat in a healthier manner. Did I mention the photos are gorgeous? If you're looking for a cookbook to gift for the holidays, this could fit the bill. Another gift I like to give at holiday time is a great bottle of olive oil from Italy or Spain. For the price of a bottle of wine, you can get someone a real culinary treat. Place a pretty ribbon around the neck and it's ready to go. My must-have kitchen ingredient: pink peppercorns and fennel seed ground in a mortar and pestle, amazing on so many things, OR good quality Parmigiano-Reggiano."
—Toronto-based Chef and Sommelier Tonia Wilson is a regular contributor to LCBO's Food & Drink. Her new Beer & Food Cookbook is slated for release Summer 2018, and she is also the head BRÜ Master for BRÜ Mustard (brumustard.com). www.toniawilson.com
---
"As a Chef for over 35 years born in Italy, there have been many cookbooks that have crossed my path from around the world. I have a great passion for feeding the planet and what is involved in creating a healthy meal with locally grown food in season. We start by learning how to create meals from what we have at home. This is why I recommend and use the cookbook Bread Is Gold by Massimo Bottura, which features global top chefs, including me, who share tried and true recipes using what is available at the time. This book inspires the foodie and cooks, to learn to experiment and see your local food and food you have in the fridge as a canvas to create exciting meals. It's true inspiration that you can take home and use in your kitchen. Holiday tips: Prep food in advance so you can cook together with family and friends in a relaxed, fun environment. Create a theme so everyone can be involved."
– Toronto-based Italian celebrity chef Dario Tomaselli has worked at the top hotels and restaurants around the world and is Professor/Coordinator Culinary Arts – Italian Postgraduate Program at George Brown College. Dario offers culinary classes and retreats with his partner Anita Heidema, Cook Together Stay Together.
---
"One of my favourite things about this time of year is all the cooking…not just everyday cooking, but preparing special meals for impromptu get-togethers or more elaborate meals with friends and family. Everyone has a little pep in their step, a smile on their face and is ready to indulge in something good. One of my favourite cookbooks this time of year is Jamie Oliver's Christmas Cookbook. It's festive and covers a range of courses. Most importantly, the ingredients are simple and the instructions are clear. This one was gifted to me by my husband a couple of years back so that's another reason why it holds a special place in my heart. Favourite tool: My 12-cup food processor. Whizzing up cream cheese for dips? It does that in a jiffy. Chopping veg? No sweat. Another kitchen essential is having a variety of cheeses on hand. Unexpected guests visit? Make a simple spread of cheese, crackers, some fruit and you're set!"
—Newfoundland blogger Dawn's love of food grew from watching The Food Network and reruns of Julia Child's cooking show. A particular point of inspiration is her mother's Christmas Day dinner, which she looks forward to every year. Her blog, Girl Heart Food, is packed with delicious ideas and inspiring photos. https://girlheartfood.com