At Harrowsmith headquarters, we often receive emails or Facebook queries from our community for long lost recipes. Readers, who fondly remember an orange and chocolate muffin that definitely had sour cream in it ask, "do you have a copy lying in your galley?" Or, what about that savoury solstice pie with prunes and red wine? The details are often vague, but thanks to those who have kept archives of Harrowsmith's legacy and former Food Editor Darlene King's magic in the kitchen, we have been able to unearth a few for you. If you've been fondly remembering a casserole or treasured jam recipe from issues past, we suggest posting your Lost and Found ad on our Facebook page. Or, email jules@moongate.ca with the recipe that you've been craving. We'll get our secret team of Nancy Drew detectives on the case!
In our Winter 2018-18 issue, we published a letter from Gloria McEachern of Salt Spring Island, BC. "I'm looking for a recipe I used to have from one of your magazines back in the late 1970s or '80s. It was a Moroccan lamb with cinnamon and almonds and I'm wondering if it would be possible to receive another copy of it?" Carol Sharman, a reader from Edmonton responded and sent the recipe to Gloria, the old-fashioned way, through the mail. Gloria wrote us to say, "Thank you so much for your assistance in this quest of mine. Carol sent me the complete article from the magazine and it really made my Christmas. The recipes were as I remembered. This possibly might be an article for you to republish, they are so good!" A few weeks later, Brad and Brenda Bell of Cobourg, ON, contacted us and sent a copy of Polly's Moroccan Stew. Brad sifted through his issues (an impressive collection from 1978 to February 1997). The recipe was similar and found in Harrowsmith's Fish and Simmering Suppers cookbook. Thanks to Brad, Brenda and Carol, for making this a truly cross-Canada search for a long lost lamb stew!
Ingredients
2lbs lean lamb, cut in cubes
1/4 cup olive oil
1 cup chopped onion
1 clove garlic, minced
1/4 cup dry sherry
1/4 cup raisins
1 tsp salt
1/2 tsp turmeric
1 tsp dried oregano
1/4 tsp crushed red pepper or hot pepper sauce
1 lb tomatoes, peeled and diced (fresh or canned)
2 tsp toasted almonds, chopped rice
Method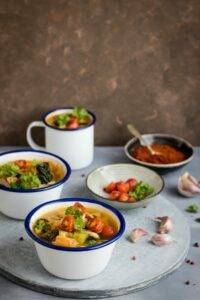 In a Dutch oven, over high heat, sauté the meat in batches in hot oil until lightly browned. Remove meat and set aside. Sauté onions and garlic until lightly browned. Add 1/2 cup water, sherry, raisins and seasonings. Stir in meat and cover pot. Simmer stew about 2 1/2 to 3 hours.
Stir in tomatoes and cook 30 minutes longer. Stir in 1 tbsp almonds, spoon onto a serving plate and garnish with remaining almonds. Serve with rice.
Credit Poll Connell – Underhil Center, Vermont
Jules Torti
Jules Torti's resume reads more like a well-folded treasure map. She has been a canoe outtripper, outdoor educator, colouring book illustrator and freelancer. Jules has volunteered (and eaten all sorts of questionable things) in the soupy jungles of Costa Rica, Uganda and the Congo. Her work has been published in The Harrowsmith Almanac, The Vancouver Sun, The Globe & Mail, travelife, Canadian Running and Coast Mountain Culture. She actively feeds her blog, Alphabet Soup, with posts on books, birds, burgers and beer (in no particular order) across the latitudes from Zanzibar to Iceland. Closer to home, she was grandfathered into the Galt Horticultural Society, was the caretaker of a 155-year-old stone heritage cottage and has chronic fantasies about church conversions, beekeeping and owning llamas. She has been known to slam on the brakes for photo ops of saltbox houses, saddle roof barns, snowy owls and sunflower fields. As editor-in-chief of Harrowsmith she is thrilled to be able to curate, write and read about the very best things in life.