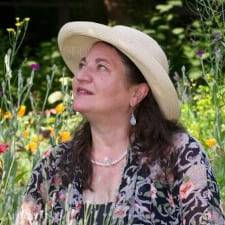 Beth's career has spanned three continents over 40 years; from theatre to journalism, narration and documentary production; fibre arts and festival production and onto developing and pioneering organic plant-based body care "from the ground up". Supporting artisans and artists, Indigenous peoples, sustainable living and ecological responsibility have been strong threads through her working life.
www.dragonflydreaming.com
How Rose Rogan transformed a former Christmas tree farm into perennial permaculture.
It was early autumn 1991. The summer heat and sweat-lodge humidity of Tokyo were beginning to crisp up to clear mornings when the silhouette of Mount Fuji once again emerged
When I was 10, we had camped from Windsor, Ontario, across Western Canada to Vancouver Island. I remember posing in front of the Thunderbird totem at the Malahat summit with my little brother; the pole's still there, though the snapshot only lives in my memory now.
Quebec homesteaders Marie Eisenmann and her family live off the grid in an earthship built 40 years ago. Here's their story.