I have an entire kitchen cupboard full of recipes. It's a combination of favourite recipe books, magazine and newspaper clippings (some of which I've organized in plastic page holders in a binder), old Milk Calendars, and ancient recipe cards from my mother and grandmother. I treasure the recipe cards the most because they have the power to instantly recreate childhood memories of watching my mom baking or the special times when she let me help. Though she is no longer with us, I keep my favourite memories alive by turning to her recipe cards for inspiration in the kitchen. When the call went out to dairy farmers across Canada in 2013 asking us to submit our family recipes featuring dairy ingredients for the next Milk Calendar, I jumped at the opportunity. The Milk Calendar has been a fixture on my family's kitchen wall for as long as I can remember, and the 2019 edition will be the 42nd year of its publication.
Josée Bienvenu, marketing manager at Dairy Farmers of Canada (DFC), has worked on the Milk Calendar for 10 years and says it is a team effort with recipe developers, nutritionists, taste testers, photographers and an advertising agency. Bienvenu describes the calendar as her "baby," and the team works on it from March through to its distribution of 2 million copies every November. Eighty-five percent of the calendars are distributed in Ontario through weekend editions of local newspapers, with the rest distributed between Atlantic and Western Canada.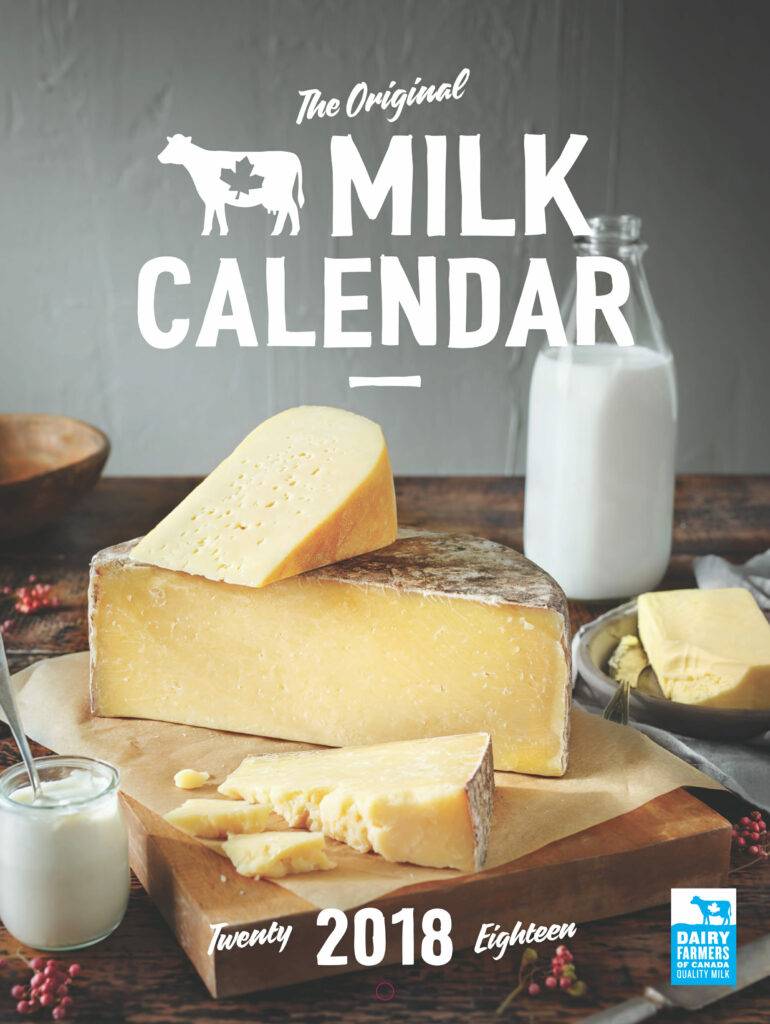 "Our main focus is the family and the mom who comes home at the end of the day [who wants] access to an easy and quick recipe that will be nutritious, that she can make that night, and will have some leftovers for lunch tomorrow," says Bienvenu.
She says it's important to provide families with nutritious recipes with easy-to-find ingredients. Working on the calendars one year in advance means that by the time the calendar comes out, new and trendy ingredients are mainstream and easy to find in grocery stores.
"We use trends for inspiration, what's hot in restaurants, what's hot on the web," she says.
The recipe developers are important for knowing what is on trend and coming up with unique recipes that include dairy and up to two cups of milk. Not only does the recipe need to taste good, but it also must look good to be appealing in the calendar. Making soup with a cup of milk, for example, means it will be beige instead of clear, and it needs to look good.
The nutrition team does a first round of nutritional analysis before the taste test, and then after the taste test, the recipe can be adjusted.
"The taste test takes a full day, and we always keep some extra recipes so we have the luxury to discard some if the visual effect won't work for the calendar," says Bienvenu. "It's a big day, usually involving 32 recipes for taste testing."
Multiple team members test the recipes to make sure they work in multiple ovens and that the instructions are easy for everyone to follow.
The photography and video development during the summer are particularly intense and at the same time that the agency is working on the layout. The DFC website was revamped three years ago, with instructional videos to show how easy the recipes are to make, and the social media campaigns were ramped up to target young people, who may not be subscribing to newspapers. The online presence is important in targeting a younger demographic that will be the next mothers, grocery shoppers and home cooks.
Bienvenu describes the millennial generation as foodies. "They are very interested in where their food comes from, and they want to do the recipes themselves," she says.
In 2017, Canadian users visited the DFC website 1.2 million times to view recipe pages, more than 50,000 times to use the videos, and close to 80,000 for information on the Milk Calendar distribution.
Over the years, the Milk Calendar has worked with several chefs and culinary personalities on recipe development. Bonnie Stern, cooking instructor and cook book author, partnered with the calendar for eight years from the mid-1980s to the mid-'90s. James Barber, widely remembered for hosting the CBC cooking show The Urban Peasant, collaborated with the calendar for four years, from 1996 to 1999, to create simple, no-fuss recipes using milk. In the early 2000s, chefs like Anne Lindsay, Christine Cushing and Anna Olson worked on the calendar. More recently, professional home economist Jennifer MacKenzie and food writer Heather Trim have contributed to the success of the calendar.
For the past few years, local and seasonal availability have influenced recipe development and selection. Bienvenu's team is inspired by trends popular on social media, such as the Green Goodness Smoothie Bowl in the 2016 calendar and freakshakes (milk shakes with crazy garnishes) like the S'more Chocolate Shake in the 2018 calendar. Keeping ahead of trends also means incorporating new ingredients and recipes that reflect the multicultural makeup of Canada. There are many ingredients in the calendar today that home cooks might not have heard of 10 years ago but would now consider mainstream. Think kale, quinoa, seeds (chai, pumpkin, sunflower, hemp hearts), goji berries, Thai red curry paste, sumac, garam masala, pomegranate seeds and tahini. And let's not forget the inclusion of new dairy products gaining popularity, such as halloumi cheese, which is great for grilling, and the thick and creamy Greek- and Balkan-style yogurts.
In an age of declining print media, the calendar remains an effective way of encouraging people to consume more dairy to meet their daily needs. "Sometimes people have difficulty integrating enough dairy in their diet, and that's why we want to provide them with ideas of how to cook with dairy ingredients, to be able to include more dairy in their diet," says Bienvenu, who says this is especially true for kids. "When they are very young, it is easy to get them to drink milk." But as they grow older, there are more beverage choices, and sometimes dairy takes a back seat to pop and juice. The Milk Calendar recipes make sure those older children are still consuming dairy, even though it is not as obvious as drinking a glass of milk.
"Every year, we look at the calendar, and we say 'Oh, that's our best one,'" says Bienvenu. "And the year we're not going to say that, we'll be in trouble because every year the new calendar is better than the one before."
As for my connection to the Milk Calendar, not surprisingly, they didn't choose my cookie recipe calling for a pound of butter, but they did print my family's fantastic Baked Nutty Berry French Toast recipe in May 2014, which called for two cups of milk. My mother made this recipe at Easter in the year before she passed away, so it invokes a powerful memory for me. Since the printing in the calendar, I have been thrilled to meet people who are making memories with this recipe at their own family gatherings.
You can find many of the Milk Calendar recipes (including mine) online at dairygoodness.ca. And watch out for the 2019 calendar in a weekend edition of your local newspaper sometime in November.
"This recipe is special because my mother made it as an Easter treat the year she passed away. I treasure all her recipes — they bring back great memories of my family in the kitchen and of sharing meals around the table."

Catherine Agar, dairy farmers from Salford, Ontario
Ingredients
6 thick slices (about 3/4-inch/2 cm) whole wheat bread
4 eggs
3/4 cup (180 mL) packed brown sugar
1/4 tsp (1 mL) ground nutmeg
1/4 tsp (1 mL) ground cinnamon
2 cups (500 mL) milk
1 tsp (5 mL) vanilla extract
1 cup (250 mL) chopped pecans
1/4 cup (60 mL) butter
4 cups (1 L) fresh or frozen mixed berries, (thawed and drained if frozen)
Method
Butter a 13 x 9-inch (33 x 23 cm) glass baking dish. Arrange bread in single layer in dish
In large bowl, whisk together eggs, 1/2 cup (125 mL) of the brown sugar, nutmeg and cinnamon until blended; whisk in milk and vanilla extract. Pour evenly over bread. Cover and refrigerate for at least 6 hours or overnight.
Preheat oven to 400 °F (200 °C).
In a small bowl, combine remaining 1/4 cup (60 mL) brown sugar, pecans and melted butter. Spread berries evenly over bread mixture; sprinkle with pecan mixture.
Bake for 35 to 40 min or until bread is puffed in the centre and fruit is bubbling.
Tips
Buy a loaf of dense, bakery-style bread and cut thick slices. If the loaf is fresh-baked, let them dry at room temperature for a couple of hours before assembling the dish. Better yet, use bread that is a day or two old (but not stale or spoiled).
Tip for Kids: This is a recipe that even kids can prepare (with supervision for younger ones) and make a special treat for the family. Cracking eggs, measuring, whisking, pouring and sprinkling are easy techniques for even the youngest budding chefs.
In the topping, replace the brown sugar with 1/4 cup (60 mL) granulated maple sugar. Use different soft fruit as it comes into season; try cherries, peaches, apricots and nectarines along with berries or instead of them.