When it comes to cooking with apples, we almost always thing of something for dessert. Rightfully so; it's why apple pie is so iconic. Apples do however have the wonderful ability to work well in savoury preparations as we see often in German recipes involving pork and cabbage. Apples have a bright acidity without being too sour. It softens and balances dishes that are richer or those preparations which find benefit from a hit of acid. My Silk Road spiced apple fritters find inspiration from the beloved Indian snack, Pakoras. I have included spices like cinnamon, paprika, cardamom to coax out interesting flavour aspects of the apple. In my recipe, I have called for a poblano pepper which is one of my most beloved peppers, but if this is difficult for you to source, swap for a couple of jalapenos which have been completely de-seeded. If you prefer some real kick, leave the seeds where they are.
I like to serve this with some yogurt as a dipping sauce, but feel free to enhance the yogurt with some chopped garlic, cilantro, lime juice, and a pinch of salt if desired.
Serving Size: 2 as a meal, 4 as appetizer
INGREDIENTS:
1 onion thinly sliced
1/3 cup (35 grams) sesame seeds
3 medium Granny Smith apples, unpeeled, grated or julienne
1 poblano pepper, julienne
4 large eggs
1 Tbsp finely grated fresh ginger
2 tsp each cumin, cardamom, and mustard seed
1 tsp each turmeric and paprika
Pinch of salt
1/3 cup (45 grams) pancake mix
½ cup vegetable oil
1/2 cup plain low-fat or regular Greek yogurt
DIRECTIONS
In a large bowl, beat the eggs and stir in the onion, apple, pepper, ginger, spices, sesame seeds, and salt and stir to combine. Sprinkle pancake mix over the mix and stir to combine; do not over-mix.
Heat oil in a non-stick pan to medium high and drop ¼ cup scoops of the batter into the pan. Be sure to spread out the mixture so it cooks all the way through.
Serve with yogurt as a dip.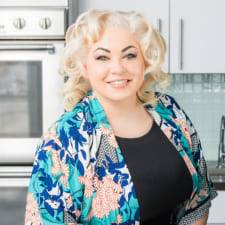 Ilona Daniel
Chef Ilona Daniel is a spirited culinary and hospitality curator with initiatives across the globe which serve to enrich and empower all stakeholders she engages with.
Ilona has her Culinary Management Diploma with President's Honours from the Canadian Food and Wine Institute, a Degree in Culinary Operations from the Culinary Institute of Canada, a Certification in Adult Education from UPEI & Holland College, and is in the process of completing her Med in College Leadership from the University of Prince Edward Island.
Chef Ilona Daniel is the director of her Hospitality and Foodservice Consulting firm, Tribe Fresh.  She has worked with several small, mid and large sized local, interprovincial and international businesses to help manage risk, grow their business as well as develop their brand in meaningful ways. Her efforts have taken her across North America, Europe, Africa and Asia.
Chef Ilona's business also works to execute special events hosting ambassadors and royalty from across the globe. She also works as a brand ambassador with the Prince Edward Island government, restaurants, food manufacturers and multi-national companies to market their operations via various social media channels.
Ilona is also a dedicated Culinary and Hospitality Instructor at the Culinary Institute of Canada, a Feature Food Writer for Saltwire Network, a regular contributor to CBC Radio, as well as a freelance travel & food writer. Her work has been featured in Saltscapes Magazine, Chatelaine, Harrowsmith, The Globe and Mail, Salty Magazine, and East Coast Living Magazine.
Chef Ilona has appeared on several television programs including The Marilyn Denis Show, Breakfast Television Toronto and Vancouver, Global Morning Calgary, FOX UK, Ethiopian Broadcast Service, as well as programs on VICE TV and APTN. Untamed Gourmet, episode "PEI Lobster" hosted by Chef Ilona was nominated for a Canadian Screen Award.
In her spare time, Ilona enjoys painting, and chasing the best sunsets from tip-to-tip of her beloved Island home.