Walter Hachborn

24 July 1921–16 December 2016

There would be great irony in saying that Walter Hachborn's life and career were a sweeping success. This is how the co-founder of Home Hardware started earning pocket change: as a stock boy at Hollinger Hardware in St. Jacobs, Ontario, earning his keep sweeping floors in 1938. Fast-forward nearly three decades to 1964, when Home Hardware was launched by Hachborn, Henry Sittler and Arthur Zilliax.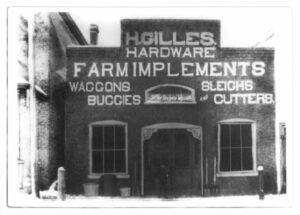 The 100 percent Canadian-owned and -operated business has ballooned from its original location (now home to the flagship) to over 1,100 stores that have been the go-to for everyone from DIY hobbyists to industry experts. His business philosophies were humble and grounded, encouraging social enterprise and independent cooperatives. He proved that dealer-owned hardware cooperatives—with an equal share and voice for every member—could succeed. With annual sales of more than $6 billion, Canada's largest independent home improvement retailer is a monumental jump from Hachborn's entry income of $8 a week at Hollinger's.
Hachborn held the daunting title of president since the beginning. He retired from day-to-day operations in 1988 and retained the title of president emeritus of Home Hardware Stores Limited until the time of his passing. His career spanned over 75 years in the hardware industry. The changes in store inventory in that time frame are remarkable, from rakes to gas-powered leaf blowers, hammers to nail guns, pine two-by-fours to steel framing, and even solar-powered lights!
After serving as an esteemed member of Sir Wilfrid Laurier's board of governors for 10 years, Hachborn was awarded an honorary doctor of law degree in 1985. In recognition of his monumental entrepreneurial accomplishments, he was presented with the Distinguished Canadian Retailer of the Year Award in 1988. He was also awarded the distinction of Retailer of the Century in 1999. In 2000, he was awarded the prestigious Order of Canada for being "as committed to small business in Canada as he is to the well-being of his community." Hachborn was also rightfully inducted into the Canadian Business Hall of Fame in 2015. Home Hardware is a Gold Standard business in Deloitte's annual list of Canada's best-managed companies, and a winner for four consecutive years (from 2012 to 2015).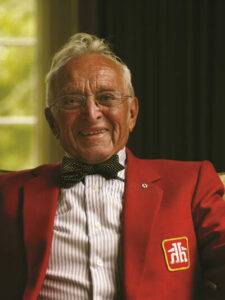 In a glowing tribute to Hachborn, Steve Payne, editor of 
Canadian Contractor
 magazine, wrote, "Revered among the dealers, the man was equal parts entrepreneur, business ethics preacher and community leader."
Even Canadian pop rocker Avril Lavigne championed the hardware legend when she appeared on Saturday Night Live in 2003 wearing a Home Hardware T-shirt. Thousands of Home Hardware shirts were sold after the episode aired, with proceeds donated to Toronto's Hospital for Sick Children.
In 2004, Canada Post issued a 49-cent stamp commemorating the company on its 40th anniversary. "We're a nation of builders for whom the local hardware store is more than just a business," Canada Post explained. "It's the cornerstone of the community." Now, there's a stamp of approval!
And Walter Hachborn was the solid foundation of that cornerstone.
Mr. Hachborn's wife of 67 years, Jean Marie, died in late 2014. He leaves behind his sister, Lorraine Mahn; his children, Susan Heard, Elizabeth Hachborn and Bill Hachborn; and five grandchildren and one great-grandchild.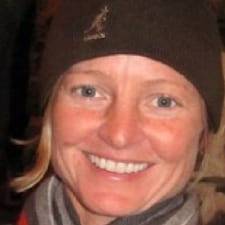 Jules Torti
Jules Torti's resume reads more like a well-folded treasure map. She has been a canoe outtripper, outdoor educator, colouring book illustrator and freelancer. Jules has volunteered (and eaten all sorts of questionable things) in the soupy jungles of Costa Rica, Uganda and the Congo. Her work has been published in The Harrowsmith Almanac, The Vancouver Sun, The Globe & Mail, travelife, Canadian Running and Coast Mountain Culture. She actively feeds her blog, Alphabet Soup, with posts on books, birds, burgers and beer (in no particular order) across the latitudes from Zanzibar to Iceland. Closer to home, she was grandfathered into the Galt Horticultural Society, was the caretaker of a 155-year-old stone heritage cottage and has chronic fantasies about church conversions, beekeeping and owning llamas. She has been known to slam on the brakes for photo ops of saltbox houses, saddle roof barns, snowy owls and sunflower fields. As editor-in-chief of Harrowsmith she is thrilled to be able to curate, write and read about the very best things in life.