Does anyone else consider mustard a food group? One of my favourite snacks is a heavily buttered cracker, slathered with mustard. I don't even need a hunk of cheese to make this satisfying; I love mustard that much. From sinus-singeing Keene's to sweet, tangy, road sign-yellow French's and all that fancy French stuff, too – I love it all.
I also love that Canada is a major player in the world of mustard-growing, with the Prairie Provinces leading the way in production. It's the hot and dry Prairie summers that grow such great mustard – though Ontario grows some great seeds too. Canada exports more mustard seeds than any other country in the world, and we're the world's Number Two producer. True fact: Dijon buys its mustard seeds from us for its most famous export!
Each of these unique Brü mustards are made with a healthy splash of beer, and they're giving me a hankering for sautéed onions, old cheddar, and rye bread!
I was mustard-curious – and beer-curious, but that another story – from a very young age, starting when my mother switched out the classic ballpark yellow stuff in my school lunch for a schmear of what was at the time, the very exotic Gulden's. We picked up a few jars in Florida and brought it back. It wasn't yet available in Canada – this was the 1970s – but when we tasted it down south, it was such a radical change from either the killer English stuff Mother would use on cold roast beef, or the most basic yellow kind. It was creamy and so well-balanced, to my uneducated taste buds it was as if there was butter already mixed in, and it added some real class to my sad little bologna sandwich.
When I moved to Toronto and started frequenting St. Lawrence Market, my mustard education continued at the counter of Kozlik's, with all those flavours to dip pretzel sticks into for tasting.
Now, in front of me are three wonderful, locally-made mustards by Chef Tonia Wilson. Her brand is called Brü, and that's because this all-round talented gal has a real thing for beer and mustard…together… Her mustards are simply made without being simple, from local and imported ingredients – stout, German ale, molasses, smoked paprika, coffee, cocoa – and they are truly delicious.
Tonia is also the author of Beer at my Table; Recipes, Beer Styles and Food Pairings (Whitecap Books, $34.95). It's a lovely-looking book without being precious; it's meant to be used in the kitchen, getting beer-spattered and butter-stained. But, it's not only a cookbook. Tonia is a beer sommelier, so the book is bubbling over with beer know-how, tasting notes, history, and an engaging beer 101, suitable for both the beer beginner and ale aficionado.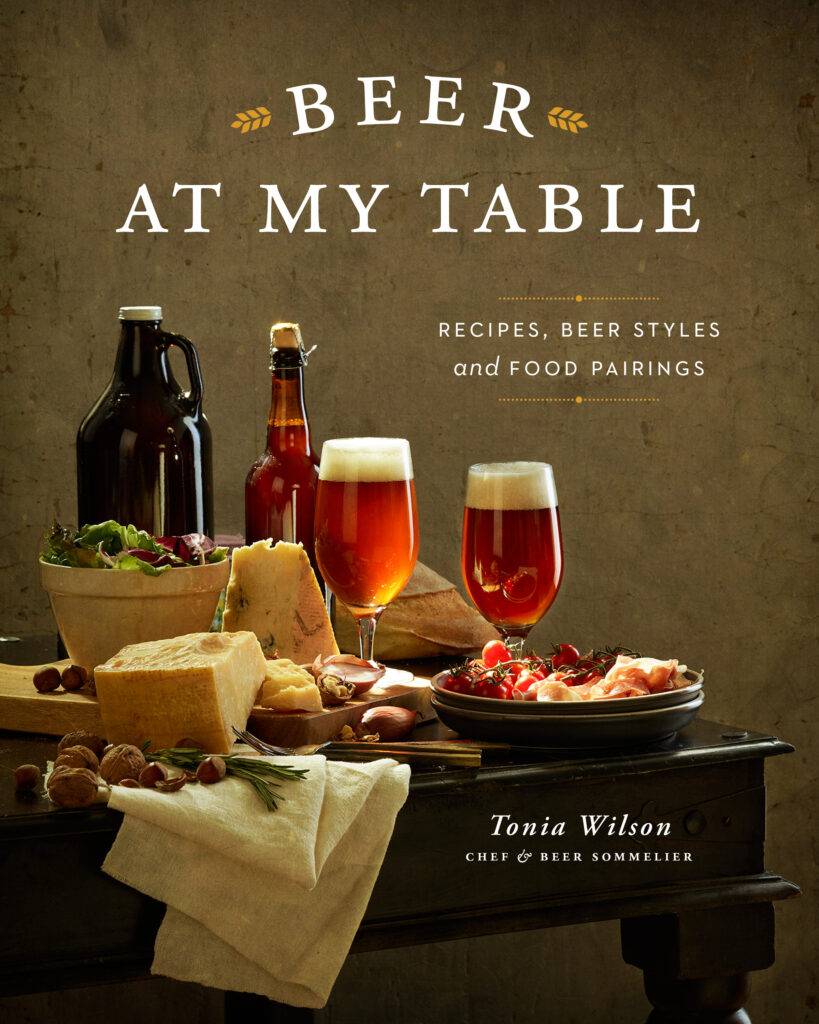 I'll be posting four recipes from this wonderful book – check back often! – starting with this heart-warming dish, perfect for hunkering down inside, admiring our winter wonderland from a safe and cozy distance.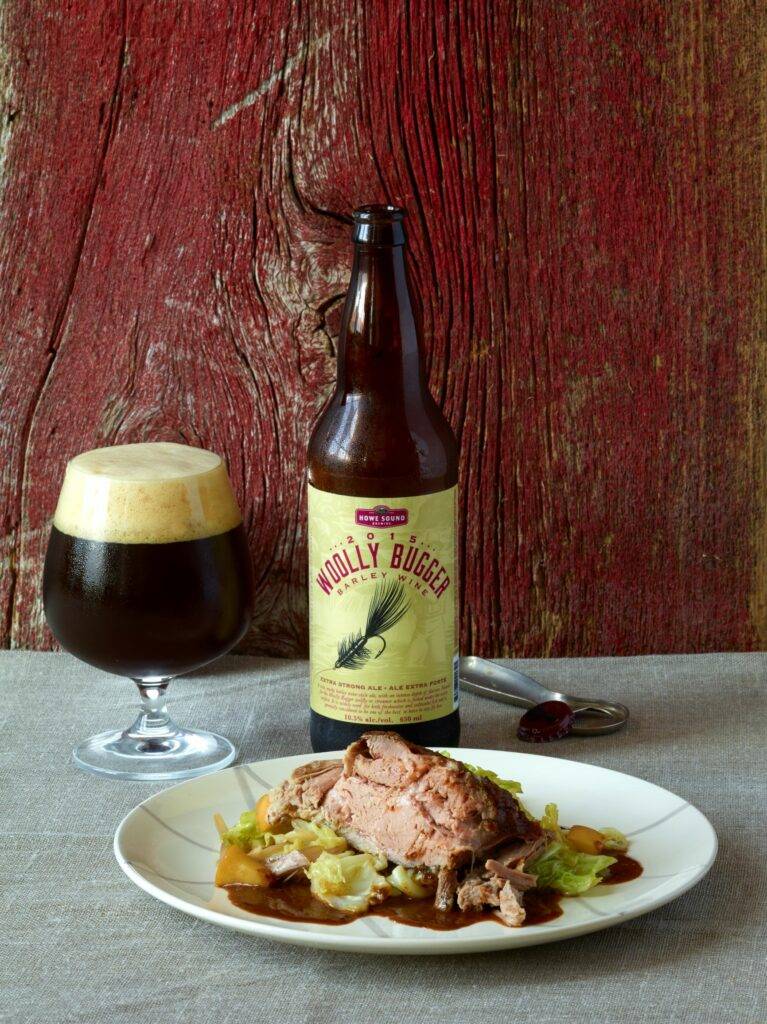 Barley Wine and Braised Pork Shoulder with Cabbage and Apple
Barley wine is named for its elevated alcohol level of 9 to 13% ABV, which is similar to that of wine. It is a strong, top-fermented ale with loads of delicious dried fruit aromas, such as figs, raisins and prunes. It can have aromas of caramel or toffee which are reminiscent of British sticky puddings, and some will display a nutty sherry-like note. Barley wine has a full-bodied mouthfeel on account of the viscous, warming alcohol and malty sweetness. Hopping can vary depending on whether it is an American or British barley wine, the latter showing less hop character than the former. Barley wines are labours of love as they are rather time-intensive and costly to produce, which makes them all the more revered. Barley wines will sometimes be labelled with a vintage date stating the year of production, because this is a beer style that takes well to aging and can become a beguiling indulgence with a little time behind it.
The Pairing: Woolly Bugger Barley Wine, Howe Sound Brewing (Canada)
The luscious braised pork dish is a complementary pairing for barley wine and worthy of accompanying such a special beer style. First there is the toffee-sweet maltiness of the barley wine that is quite similar to the caramelization that occurs when the pork is darkly seared at the beginning of the recipe. This caramelized crust dissolves as the pork is braised, bringing caramel notes to the sauce. One of the secret ingredients that really helps bridge the flavours in the pairing is the addition of dates to the pork, which melt into the sauce as they slowly cook. The sweet, treacly dates and apple both add a sweetness to the sauce that complements the beer's malty and fruity nature. And the innate succulence of pork shoulder adds richness which is capable of standing up to the beer's fiery 10% ABV. To avoid having too much sweetness in the dish, the cabbage acts as a counterbalance, and grainy mustard is stirred into the sauce at the last moment for a hint of acidity and tang to keep the pairing balanced and harmonious. Enjoy!
Others to try:
Old Foghorn Ale, Anchor Brewing (USA)
J.W. Lees Harvest Ale (England)
Solstice d'hiver, Brasserie Dieu du Ciel! (Canada)
Braised Pork Shoulder with Cabbage and Apple
Ingredients
2 3/4 lb (1.37 kg) boneless pork shoulder (also called butt)
Salt and freshly ground black pepper to taste
5 tbsp vegetable oil, divided
4 cups coarsely chopped onions, divided
1 cup coarsely chopped celery
5 cloves garlic, coarsely chopped
2 tsp paprika
2 tsp fennel seeds
2 tsp coarsely chopped rosemary
1/4 cup chopped pitted dates
8 cups coarsely chopped Savoy cabbage
1 red apple, cored and finely chopped, peel left on (not McIntosh)
1/4 cup 35% cream
2 tbsp grainy Dijon mustard
Method
Preheat the oven to 300ºF.
Season the pork generously with salt and pepper. In a large ovenproof pot, heat 3 tbsp oil over medium-high heat. Brown the pork until deep golden on all sides, about 5 minutes per side. Remove the pork from pot and set aside.
Discard all but 1 tbsp oil from the pot. Reduce the heat to medium and add 3 cups onions, the celery and garlic to the pot. Cook, stirring often, until the onions are translucent, 10 minutes. Add the paprika, fennel seeds and rosemary, and cook, stirring, for 1 minute.
Return the pork to pot, along with the dates and 2 cups of water. Bring to a boil, cover and place in the oven. Cook for 2 1/2 hours, making sure to turn the pork over halfway through cooking time.
While the pork is cooking, heat the remaining 2 tbsp vegetable oil in a second large pot over medium-high heat. Add the remaining 1 cup onions and cook until tender, about 15 minutes.
Add the cabbage, apple and 1/2 cup water. Cover and cook until cabbage is tender, about 20 minutes. Remove the lid and continue cooking until the liquid has reduced. Set the cabbage aside until ready to serve.
When pork is cooked, carefully remove it from the pot. Using a sieve, strain the cooking liquid into a medium bowl, making sure to push down on the solids to extract all the flavour and liquid.
Return the pork and strained cooking liquid to the pot, along with the cream and mustard. Simmer over medium heat until the liquid has reduced and reached a sauce-like consistency, 5 to 10 minutes, depending on how much liquid there is left in pot.
Remove the pork from the pot, slice it into four portions and divide it among four plates. Season the sauce with salt and pepper to taste, if necessary. Serve the pork with the sauce and cabbage.
Serves 4