Thank you to all of our readers that submitted darling photos for our Spring 2018 Pet Photo Contest. You certainly captured our four-legged friends where they shouldn't be–eating the fruits of your labour, flattening prized flowers, tipping over birdbaths and digging holes to China. It was a difficult decision with so many adorable contenders! But, we have to give first place to future dog guide, Gelly and Arlene Heaps of King City, Ontario. Leroy the raspberry thief stole hearts (and raspberries) for second place–congratulations to Janice Cournoyer of Lorette, Manitoba. And, so the cats don't send us hate mail for not including them in the contest winnings–we loved Hermes, who keeps Liz Amello of Toronto, Ontario, in good company. An honourable mention goes to Princess (and Cheryl Cook), the fastest canine snap pea eater of the west from Bowen Island, BC.
And to every cute fur ball out there, thank you! Here's looking at you Albert, Frankie, Geordie, Sasha, Furgus, Molly, Skye, Scout and Lucky!
First Place:
"Gelly" is a foster puppy who belongs to the Lions Foundation of Canada as she is a future dog guide.
Arlene says, "She sure is a gardener. She eats the yard. She eats flowers, sticks, birdseed, and she loves pine needles picked off the tree. She has also chomped down my precious Japanese Ito peony. Other than that, she is wonderful, smart, obedient, healthy, and I am confident she will graduate in one of their programs."
Submitted by: Arlene Heaps, King City, ON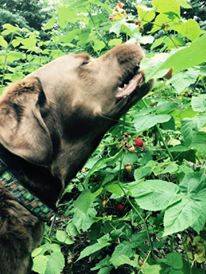 Leroy Brown, the Raspberry Thief
Submitted by: Janice Cournoyer, Lorette, MB
Honourable and super cute mentions:
"I have to plant extra snap peas every year just to keep up with her addiction. She usually waits patiently until one of us picks her a few, but sometimes she can't help herself and sneaks one off the vine."