We went through 3 big boxes of the store-bought version every week, and it was full of sugar. I finally settled on this recipe: it's as low in fat as I can get a granola without sacrificing flavour and texture, it's sweetened with honey, and even better: it's full of healthy coconut and sunflower seeds. I eat it sprinkled on top of blueberries and yoghourt, with a drizzle of honey or a dash of stevia.
Ingredients
1/3 cup + 1 T coconut oil
2/3 cup + 1 T honey
¾ cup sunflower seed butter*
1 T cinnamon
1 ½ t salt
7 cups of quick or large-flake oats
1 cup of shredded, unsweetened coconut
2 T hemp seeds (optional)
1 T milled flax seeds (optional)
½ cup raisins or dried cranberries (optional)
½ walnuts or pecans (optional)
Method
In a large pot, melt the coconut oil and honey over low-to-medium heat. Add the seed butter and whisk until combined, then add the cinnamon and salt and whisk again. Remove from the heat (the honey and oil can burn easily, so don't take any chances!) and pour in the rest of the ingredients. Mix together with a sturdy spoon, making sure to incorporate all the honey mixture from the bottom. Line a pan with parchment paper and spread the granola mixture over it evenly. Bake at 350 degrees for 10 minutes, then remove the pan from the oven and stir the granola so that the bits that have been on the bottom get mixed into the rest and don't burn. Bake for another 10 minutes, remove from the oven, and let the granola cool and crisp up. Add the fruit and nuts, if using, and mix. Store in an airtight container for 4-5 days, or in the fridge for up to three weeks. Makes 8-9 cups.
* A note about sunflower seed butter: you can buy it at the store, but if you have a food processor, it's easy and less expensive to make your own. Simply process about 2 cups of the shelled seeds at a time (roasted or raw — it's doesn't matter) for 2-3 minutes, occasionally scraping down the bowl, until you have a reasonably smooth butter; it's okay if it's a bit crumbly. Store the butter in the fridge.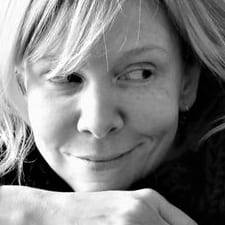 Latham Hunter
Latham Hunter is a writer and professor.  As a mother of five kids with varying dietary needs, she's been working on gluten-free, dairy-free, vegan and vegetarian cooking for as long as she can remember.  She focuses on sustainable, healthy ingredients, particularly organic, plant-based meals.