At Harrowsmith headquarters, we often receive emails or Facebook queries from our community for long lost recipes. Readers, who fondly remember an orange and chocolate muffin that definitely had sour cream in it ask, "do you have a copy lying in your galley?" Or, what about that savoury solstice pie with prunes and red wine? The details are often vague, but thanks to those who have kept archives of Harrowsmith's legacy and former Food Editor Darlene King's magic in the kitchen, we have been able to unearth a few for you. If you've been fondly remembering a casserole or treasured jam recipe from issues past, we suggest posting your Lost and Found ad on our Facebook page. Or, email jules@moongate.ca with the recipe that you've been craving. We'll get our secret team of Nancy Drew detectives on the case!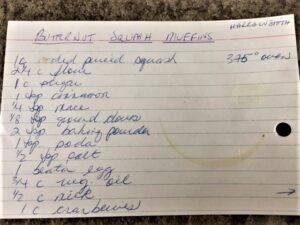 This week's lost and miraculously found: Squash and Cranberry Muffins. Linda Matonovich of North Vancouver, BC, sent us an email hoping that someone, somewhere, would have a copy of these unique sweet and savoury muffins, a blend of Vitamin C-rich squash and cranberries. Mary Lou Davis of St. Marys, Ontario was quick to respond on Facebook with her well-loved recipe card. Mary Lou suggests 20 minutes or so in the oven for the magic to happen. Unfortunately, we're not sure who to credit the original recipe creation to, but, our praises go out to the flour-dusted hands from Harrowsmith past that thought hey, squash and cranberries would make for a beautiful marriage! Thank you to Mary Lou, and happy baking, Linda!
Ingredients
1 cup cooked pureéd squash
2 1/4 cup flour
1 c sugar
1 tsp cinnamon
1/4 tsp Mace
1/8 tsp ground cloves
2 tsp baking powder
1 tsp soda
1/2 tsp salt
1 beaten egg
3/4 c veg oil
1/2 cup milk
1 cup cranberries
Method
Preheat oven 375°C
Mix all ingredients together
Grease muffin tin or use muffin cups
Pour equally into muffin tins
Bake for approx 20 mins depending on oven
Check by poking with stick, if stick is clean they are done, if not bake for 3 more mins and check again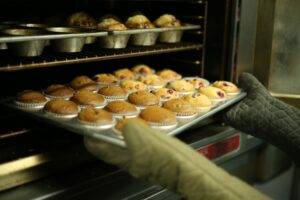 Enjoy!!
Jules Torti
Jules Torti's resume reads more like a well-folded treasure map. She has been a canoe outtripper, outdoor educator, colouring book illustrator and freelancer. Jules has volunteered (and eaten all sorts of questionable things) in the soupy jungles of Costa Rica, Uganda and the Congo. Her work has been published in The Harrowsmith Almanac, The Vancouver Sun, The Globe & Mail, travelife, Canadian Running and Coast Mountain Culture. She actively feeds her blog, Alphabet Soup, with posts on books, birds, burgers and beer (in no particular order) across the latitudes from Zanzibar to Iceland. Closer to home, she was grandfathered into the Galt Horticultural Society, was the caretaker of a 155-year-old stone heritage cottage and has chronic fantasies about church conversions, beekeeping and owning llamas. She has been known to slam on the brakes for photo ops of saltbox houses, saddle roof barns, snowy owls and sunflower fields. As editor-in-chief of Harrowsmith she is thrilled to be able to curate, write and read about the very best things in life.